2020 Vol.1
Special Theme


An Approach of the Info-Forum Museum
Decolonizing Museum Catalogs: Defining and Exploring the Problem
Kelley Hays-Gilpin

Museum of Northern Arizona and Northern Arizona University

Atsunori Ito

National Museum of Ethnology, Japan

Robert Breunig

President Emeritus of Museum of Northern Arizona
DOI: http://doi.org/10.15021/00009509
(Published March 31, 2020)
I.First Case Study: A New Community Museum "Sets the Record Straight"
10
The first example we will describe is the Amidolanne project, centered at the AAMHC at the Pueblo of Zuni, New Mexico. (http://ashiwi-museum.org/collaborations/amidolanne/; Isaac 2008). Here is the description of the project: "Amidolanne is a digital platform that brings together information about Zuni objects from collections held in external museums worldwide, to unite in a shared database based and maintained at Zuni, where Zuni members can add their own comments and corrections – using text, videos, and/or recordings – to the original descriptions attached to each object, as well as control what information to share back with the host museums. We were driven by the hypothesis that colonial (non-community) museums and Zunis describe objects differently, since they understand the world according to different systems of knowledge."
11
Participants were able to corroborate this hypothesis during a visit AAMHC and Zuni representatives made to the Museum of Archaeology and Anthropology (MAA) at Cambridge University, where we found that all the descriptions attached to Zuni objects within the museum catalog were inadequate, many of them were incorrect, and in some cases there was no information at all about the objects (Srinivasan et al. 2010; Boast and Enote 2013). The findings obtained during the MAA visit reaffirmed the idea that Zuni and museum experts describe objects in different ways and moreover, the way museum experts describe Zuni objects is in most cases incorrect according to Zuni cultural experts (community members).
12
This collaborative catalog retains object identifications in "museum language," but it adds Zuni voices describing contextual uses of the same objects and personal narratives. The updated catalog now reflects the contextual authenticity and biographical diversity of Zuni objects (Figure 5).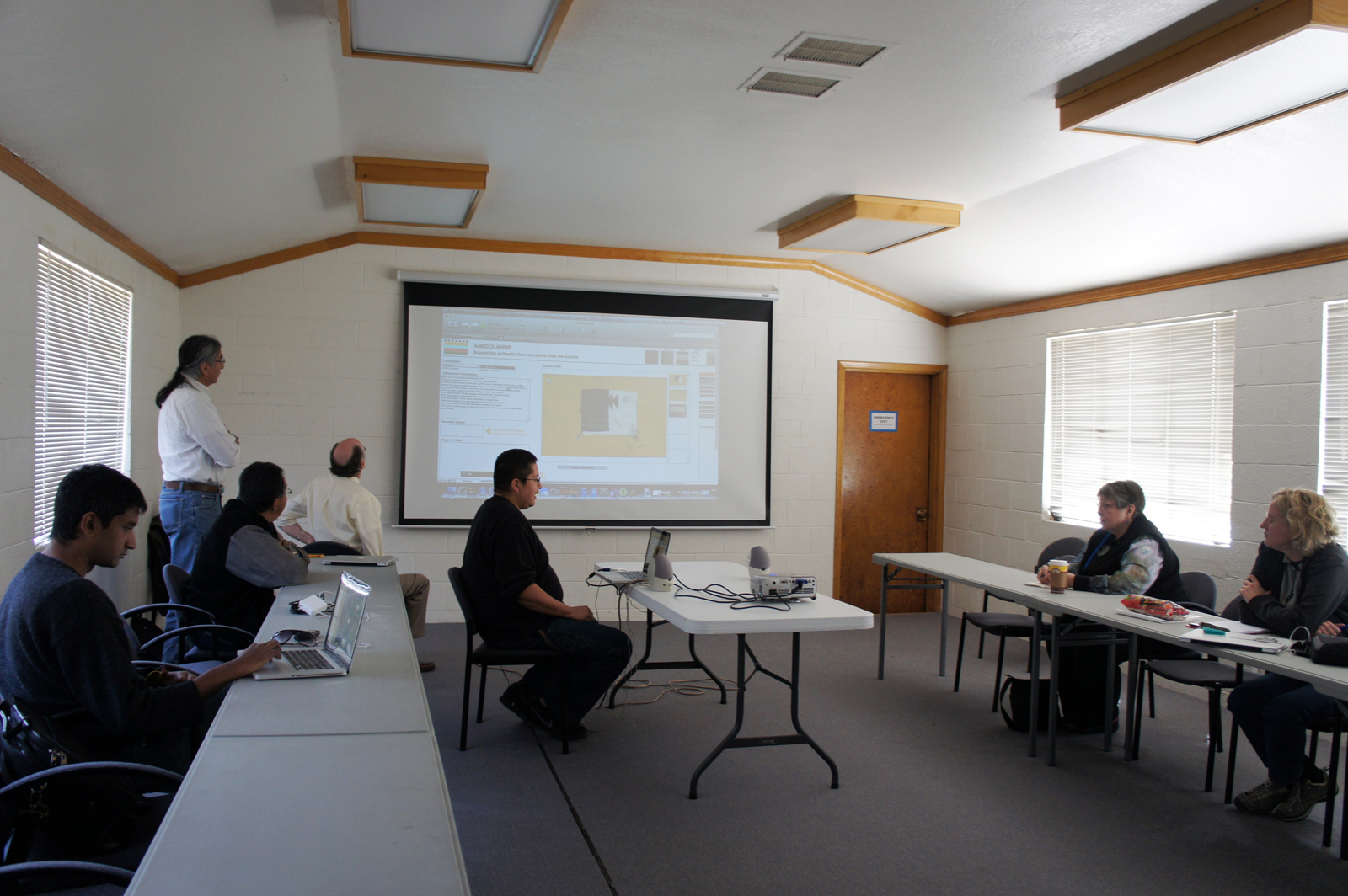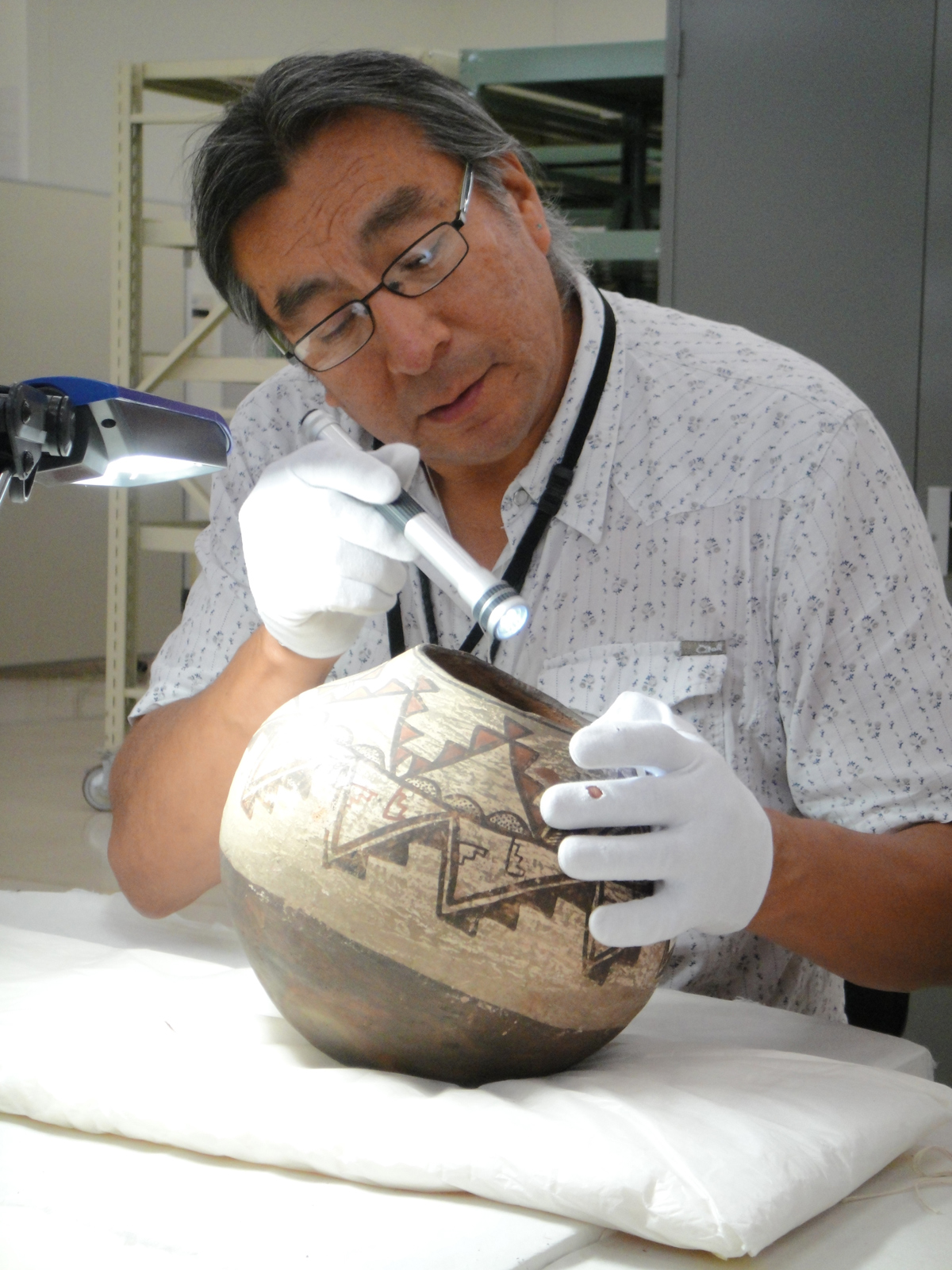 13
We speak about our experience with this project from our own point of view as minor players in the project in our curatorial roles in two of the participating museums. Minpaku hosted a Zuni cultural expert who examined 31 Zuni artifacts in its collection in 2009 (Ito 2011) (Figure 6). MNA contributed photos and catalog records of both ethnographic objects sourced to Zuni, and some ancestral Zuni archaeological objects, mainly pottery vessels. One of us (Hays-Gilpin) took part in producing comments using the online catalog interface and in reviewing comments Zuni community members contributed. All three authors took small parts in subsequent discussions about the progress of the project. We do not speak for any other project participants, and do not have access to interim or final reports about project results. Here are a few lessons we learned that could help museums in planning future collaborations:
1)

The collaborative catalog concept is strong. Both community members and museum curators support the idea of making catalog records and images available to each other. Curators want to have correct identifications and information about cultural contexts. Community members want to know what originated in their communities and was taken away to distant museums.

2)

The implementation of collaborative catalogs is difficult. The information technology needed to make this happen is complicated, labor-intensive, prone to errors that are difficult to repair, cumbersome, and expensive. The museum curators involved looked forward to getting more information to add to their object and photo catalogs, but did not have sufficient time or resources to fully take part in the project. All the museums involved characterize themselves as understaffed, with too many competing demands on their time and resources. We learned that a collaborative catalog effort cannot be simply dropped into the usual workweek or the existing information technology infrastructure available to most institutions. Museum leadership needs to devote budget and personnel (both curatorial and information technology) to it (Aron Crowell 2016, Ryan Wallace and Nicholas Jakobsen 2016).

3)

Members of source communities have diverse experiences, priorities, and opinions. They have more than one point of view. Zuni participants have conflicting views about sharing images and information outside the community. Some Zuni participants revealed in their comments that they are uncomfortable with making images of their cultural objects public. They feel that information should be kept only within the community and Zuni objects in museums should not be displayed. But others felt that the collaborative catalog, public interpretation of non-ceremonial objects, and more exposure of ancient artworks would help the outside world understand Zuni culture and help them build support for their struggles to maintain their language, culture, water rights, and land rights. This variation among community members is to be expected everywhere and needs to be respected.

4)

Many Zuni participants felt overwhelmed by the numbers of Zuni objects, documents, and photos in museums around the world. After seeing photos of several hundred Zuni pottery vessels, out of the thousands documented, they did not wish to continue reviewing each one. They were, however, interested in seeing historic photographs in museum collections, and in identifying sacred and ceremonial objects for possible repatriation. Former AAMHC director Jim Enote also pointed out that "visual repatriation may be visual but it isn't repatriation" (Boast and Enote 2013), and a number of Zuni participants pointed out that looking at photos isn't sufficient – to fully evaluate objects from their community requires examining objects in person and being able to handle them.
14
To bring this project to fruition – a true collaboration with frequent online interaction of curators and community members – would be a very time and money intensive operation. Intellectual property rights need more attention. Triage criteria for handling large numbers of redundant objects need to be implemented. Sharing images and catalog records is just the beginning – to really share meaningful information, knowledgeable members of the source community need to visit museum collections in person.
II.Second Case Study: Evolving Long-term Relationships between the Museum of Northern Arizona and Hopi Artists
15
The Museum of Northern Arizona (MNA) has been collecting ethnographic objects since 1928 (Figure 7). Throughout its history, the museum has had many positive ongoing relationships with members of source communities, especially Hopi and Navajo. Founders Harold and Mary-Russell Colton1 collected and commissioned Hopi carvings, baskets, pottery, and items of daily life. The Coltons had many Hopi friends, colleagues, and employees. For example, Jimmie Kewanwytewa (1889-1966) was an early museum employee, who worked at the museum from about 1930 to 1965. He carved a wide variety of katsina dolls2 – carvings of Hopi spiritual beings made as gifts for Hopi children and for sale on the art market – for the museum, and MNA has about 140 of his katsina dolls in our collection. Throughout the history of the museum, non-Native researchers have worked with communities and studied a variety of Hopi and Navajo arts and artifacts. Some museum research staff investigated the history and cultural contexts of objects in the museum's collections, and even recorded the Native language names for things. Their publications include descriptions and interpretations made by the museum ethnographers by virtue of their interactions with source communities, but they tend to take an external view, and their inclusion of cultural contexts in their reports is very uneven. Past researchers knew a lot, and published books and articles. But they rarely wrote down what they learned about particular objects, or, when they did record contextual information, they did not integrate details into the museum's catalog system.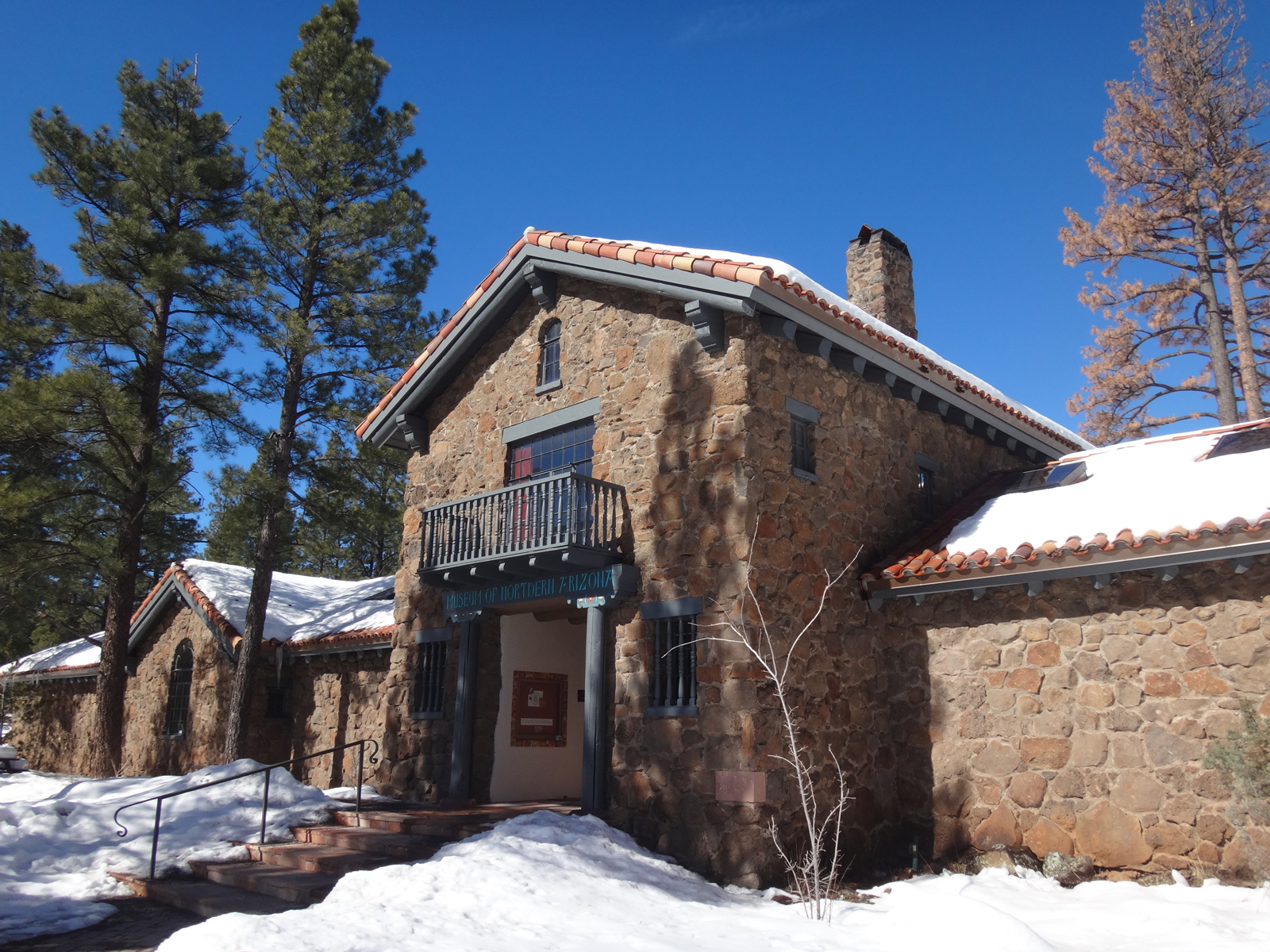 16
The MNA published books on some collections without including more than basic descriptive information on individual items. For example, Harold S. Colton's (1959) "Hopi katsina Dolls" classifies dolls as if they were biological specimens. He devotes very little text to meanings and cultural contexts. And another book on collecting Hopi kachina dolls by Barton Wright (1977) instructs outsiders about dolls, but not about the meanings and roles of katsinas themselves, as spirit beings important to the community. Laura Graves Allen's (1984) Hopi pottery book includes the history of the art form, photos, and very brief descriptions of each vessel in the collection. But the book leaves out information she surely knew about potters' life histories, the meanings of designs and colors, and the uses of vessels of various shapes.
17
Unfortunately, some of what non-Hopi researchers have written is inaccurate, incomplete, and inconsistent. For example, a standard orthography for writing the Hopi language, and thus for recording names of katsinas, was not developed until recently (see Maxson et al. 2011). The wide variety of mis-spellings resulted in mis-translations. As an example from Colton's book, the katsina called Kwasa'ytaqa (Colton kachina number 111): Colton translated this as "skirt man." Wright translated this name as "man wearing a dress." Scholars of gender might think this katsina is a transvestite, but the correct translation is "one who wears a dress" – a mere description of its appearance, not its cultural role or gender identity. This mistake occurs because translators often confuse the durative-relativizing suffix – ta-qa "one who" with the combining form for "man," –taqa (Figure 8).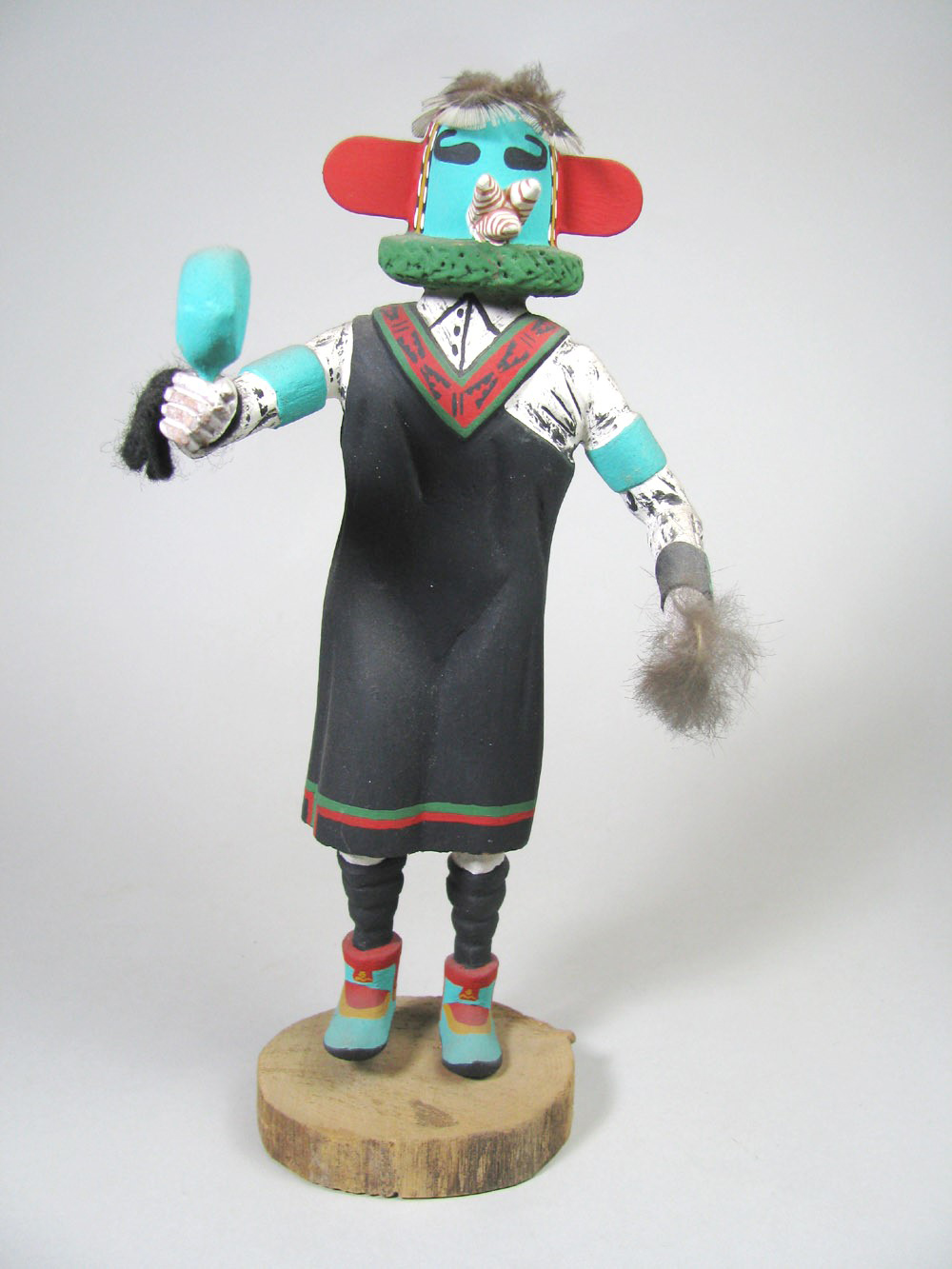 18
In spite of a great deal of research, good and bad, a review of the museum's catalog records turns up a surprising lack of ethnographic information. The catalog records are descriptive, but not very informative. They record dimensions, materials, and condition, but provide little cultural information. One of us (Breunig) wrote an article on Hopi wicker plaques for Plateau, MNA's magazine, in 1982. The article explains how Hopi women gather and prepare plant materials, how they weave the plaques, their intended cultural uses, and what some of the designs mean. MNA has about 200 Hopi wicker plaques (Figure 9-10). We should expect to find these details in the primary catalog record for each basket that Breunig studied for his publication. But what do the catalog records say about them? How many records explain cultural uses and Hopi names of designs? Not many. Only four records include the Hopi name of the plaque, yungyapu, and a handful include the Hopi names for specific designs. We should want this information in our catalog records because each Hopi plaque design has deep cultural significance. Each tells a story (Film 2). For example, the name of the basket referred to as a "wedding plaque" is actually called nangu'y-yungyapu, which means "holding together plaque." The name refers to a set of small rectangles that ring the center of the design and which are "held" or linked by a line running between them. It is said to symbolize the "holding together" of a couple in marriage. It is used as part of a complex wedding ritual because the bride has to bring food and plaques to repay the groom's family for weaving her wedding outfit. It is also called hahàwpi, "a thing for descending," because at death, this plaque is buried with the groom, and his spirit rides on it as he descends to the underworld.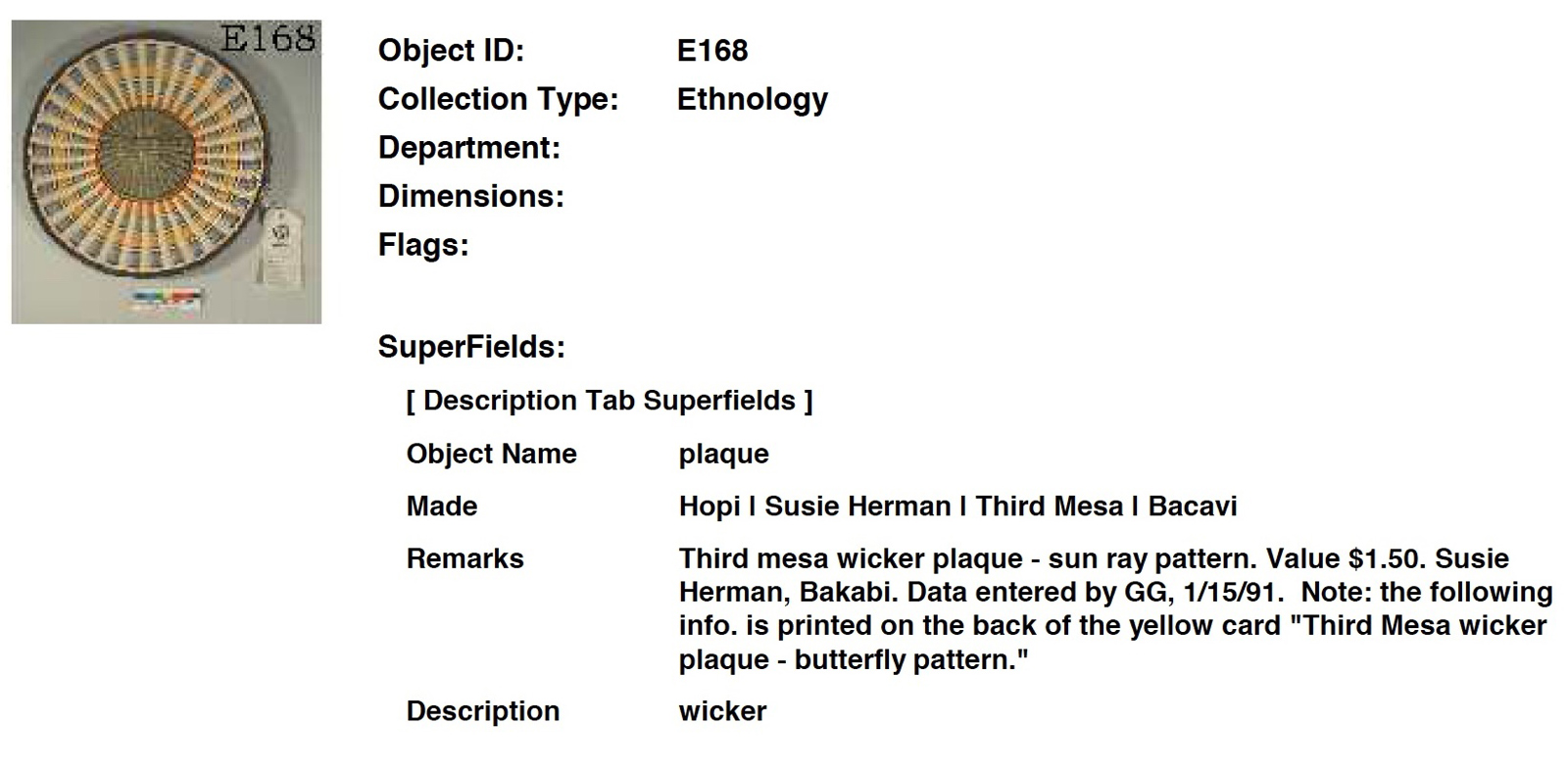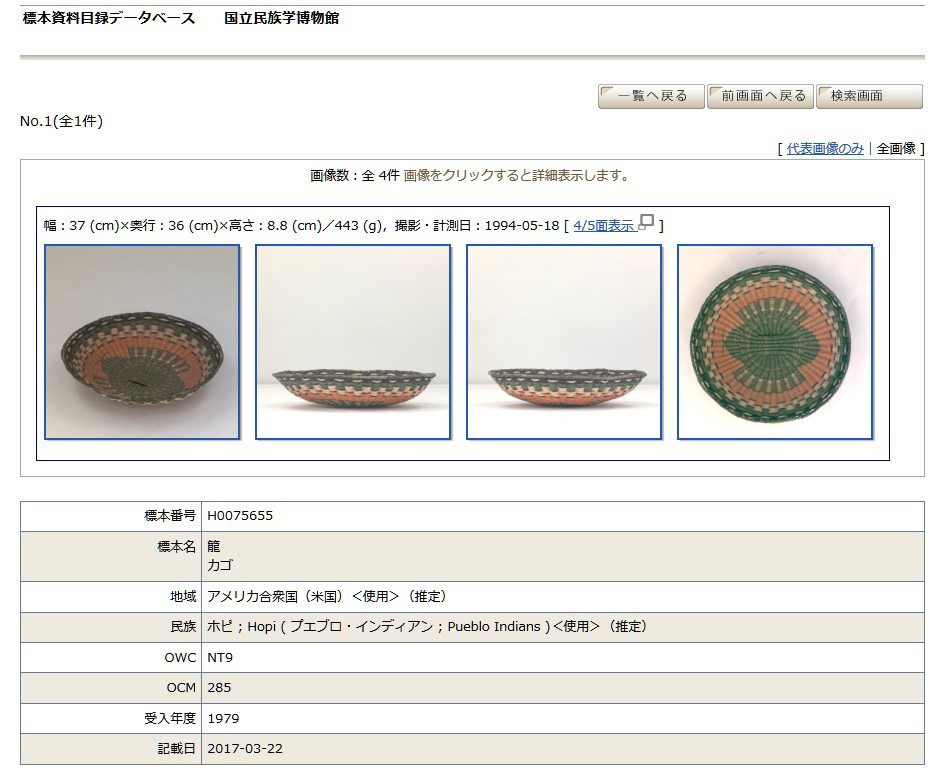 19
20
Why is this information missing from our catalog records? For one thing, the people doing museum registration in the past – and now perhaps even more so – do not have backgrounds in cultures, languages, anthropology, or archaeology. Nor do they come from Native communities. Early on, volunteers did much of the catalog work. Today, specialized collections registrars and managers do this work. They are trained in museum methods, museology, collections management, and museum science. Their focus is preservation of material objects and not cultural contexts. So, museums are often siloed, museum staff members are often isolated from one another with a division of labor such that people who catalog collections describe them in technical detail, and people who study collections are perhaps researchers who know the source community, but who are not sharing their knowledge with the people cataloguing the collection.
21
At MNA, we need to reconnect source communities with our collections, and put the missing Hopi voice back into our collections records. How do we reconnect? It's not too late to go back and interview basket weavers, katsina doll carvers, potters, and other artisans. We can do more than the curators of previous decades. We can record and transcribe voice and video interviews about the cultural background of these objects, and understand more about these objects in the voices of people from source communities. This is a massive undertaking but it's absolutely critical for the long-term interpretation and scientific value of the objects themselves. As we write this chapter, we are making a start. But this requires an institutional commitment to work with source communities and record such information.